Our Story

Over 20 years ago I met Paul Collins, the inventor of the best fish dehooker I've ever seen. I've "lost" about fifty of the dehookers to my fishing buddies and kids along the way. I am still so impressed with this simple, easy and safe dehooker that when Paul offered to sell me the business I jumped at it.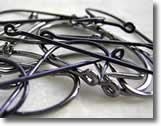 All of us that fish with a single hook know what it is like to pull up a fish to find the hook nowhere in sight. Sometimes we get lucky and get the hook out without much damage to the fish or ourselves, but even then it takes up valuable fishing time. Other times the fish ends up floating and we find ourselves looking for the first aid kit.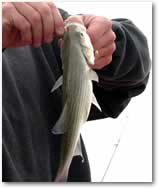 The SafeDehooker can put an end to dehooking drudgery. You do not even have to touch the fish! Whether back into the water alive and well, or into the cooler, you're back to fishing in just seconds. Bullheads, Catfish, Panfish, Perch, Eels or anything you catch on a single hook it's no problem. Just pull the handle and they're off. And this dehooker will never rust. Perch fishermen, you'll have your fish off, rebaited and back in the water faster than your buddies.
Don't let them fill the cooler
while you struggle with dehooking!
Ice fishermen do not even have to take off their gloves or mittens! It's That easy! No matter what fish you're after with a single hook, the SafeDehooker® is safer for you and the fish, as well as fast and easy. So, save time and tempers, order today. Click here to see a demo!
Good Luck Fishing,
Bob S.
PS: They make great stocking stuffers, as well as a a gift for anyone at any age at any time - Especially the person that has "everything".